The Jean Monnet Module "Musical Identities and European Perspective: an Interdisciplinary Approach" led by Professor Mirjana Veselinović-Hofman, deals with academic studies in the field of arts, especially music and musicology that are not commonly associated with EU studies. Due to the fact that there are no EU related studies at the University of Arts in Belgrade and at the Faculty of Music, this project aims at European integration processes in the field of culture and music in order to bring this subject closer to the target group (MA and PhD students of musicology and of the musical performance at the Faculty of Music in Belgrade).
The project aims to introduce topics of European integration in the curricula of faculties of arts, which corresponds to one of the principal objectives of the Erasmus+ programme – the sustainable development of Partner Countries in the field of higher education. Promoting excellence in teaching and research in EU studies is one of the first steps in realization of this project. Research of musical identities belongs to the most vibrant and provocative subjects in current musicology, and their introduction in the academic curricula and teaching, especially in the context of European integration, results in the promotion of the excellence in teaching and research.

University of Arts in Belgrade
Faculty of Music
Department of Musicology
Prof. Dr Mirjana Veselinović-Hofman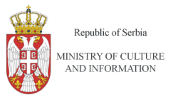 The project is supported by the Jean Monnet Programme of the European Union  and the Serbian Ministry of Culture and Information's Programme for co-finacing of projects hold by international funds.
The Jean Monnet Programme is a part of the European Union's Erasmus+ Programme.